Beaver Island Tour (1 1/2 hour)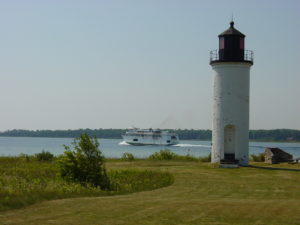 Beaver Island is the largest island in Lake Michigan and home to beautiful forests, lakes and a unique history of being a former kingdom. Our guided van tours are the best way to see all the highlights of America's Emerald Isle and learn about its unique history. Our tour guides will take you through the northern portion of the island including St. James village, Whiskey Point Lighthouse, and Donegal Bay. You will also have views of High, Trout and Garden Islands along the way. A tour is really the perfect introduction to Beaver Island and still leave you enough time to explore on your own before boarding the Ferry back to Charlevoix.
Available most days at 11:00am, 1:00pm, and 3:00pm dependent on driver availability.
BOOK online by clicking : HERE
Call TO BOOK YOUR 1 1/2 HOUR TOUR : 231-448-2500 in mid May
TOUR ONLY: (does not include ferry tickets)
Adult (13+): $ 52.00
Children (5-12): $44.00
TOUR PACKAGE (includes tour and round trip passage for passenger)
Adult (13+): $99.00
Children (5-12): $73.00
REMINDER: If going to the island just for the day, you must take the 8:30am boat departing from Charlevoix. Check in at the Charlevoix office is at 7:30am. If you need assistance, or have a wheelchair or walker, please let us know so we can accommodate accordingly. As a friendly reminder please no pets on the tour.
FOR MORE TOUR INFORMATION PLEASE CALL OUR TOUR OFFICE: 231-448-2500