Beaver Island Regular Tour (1 1/2 hour)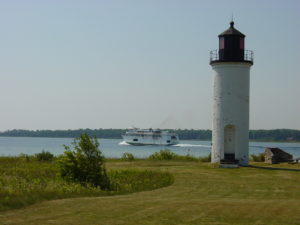 This tour focuses on the northern end of the island and the harbor area. Tour charming St. James village including its lighthouse on Whiskey Point, shops, museums and churches. The tour then proceeds to the west side of the island to see spectacular Donegal Bay with views of High, Whiskey, Trout and Garden Islands. Finally you will visit Protar's home and tomb and hear the intriguing history of this fascinating man.
CLICK HERE TO BOOK YOUR 1 1/2 HOUR TOUR :
TOUR ONLY: (does not include ferry tickets)
Adult (13+): $ 43.00
Children (5-12): $35.00
TOUR PACKAGE (includes tour and round trip passage for passenger)
Adult (13+): $89.00
Children (5-12): $64.00
REMINDER: If going to the island just for the day, you must take the 8:30am boat departing from Charlevoix. Check in at the Charlevoix office is at 7:30am. If you need assistance, or have a wheelchair or walker, please let us know so we can accommodate accordingly. As a friendly reminder please no pets on the tour.
FOR MORE TOUR INFORMATION PLEASE CALL OUR TOUR OFFICE: 231-448-2500